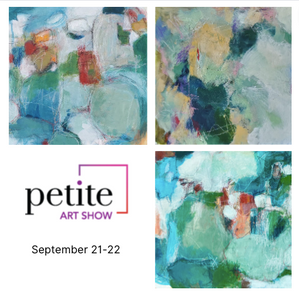 Upcoming Show!
I am participating in the Petite Art Show - Square Foot Edition on Sept 21 & 22, 2023. Everything is 12" x 12". I will have 5 pieces of all new work. See my collection for the Petite Art Show HERE.
CLICK HERE or at the website below and enter to win a 12" x 12" original painting!
Petite Art Show website
About the Artist
Libby lives in Conception Bay South, just outside St. John's Newfoundland where she paints from her home studio near the ocean. She has studied at Memorial University, the College of The North Atlantic, Nova Scotia College of Art & Design and Ottawa School of Art.  
As a youth Libby attended classes at Memorial University Extension Services. She studied painting and drawing under well-known Newfoundland artists, Gerry Squires, Julia Pickard and Lise Sorenson.
Libby now practices both representational art and abstract art. Her favorite colors to paint with are the many blues and blue-greens of the sea.
Learn More